Now making your CW payment is even easier.
Follow this quick and easy guide and start managing your payments today!
Step 1: Log into CWAnyWhere or enroll if this is your first time using CWAnyWhere.
(You can enroll by clicking the enroll button on the login screen and answering the authentication questions. Please select a username that is 5-10 characters in length.)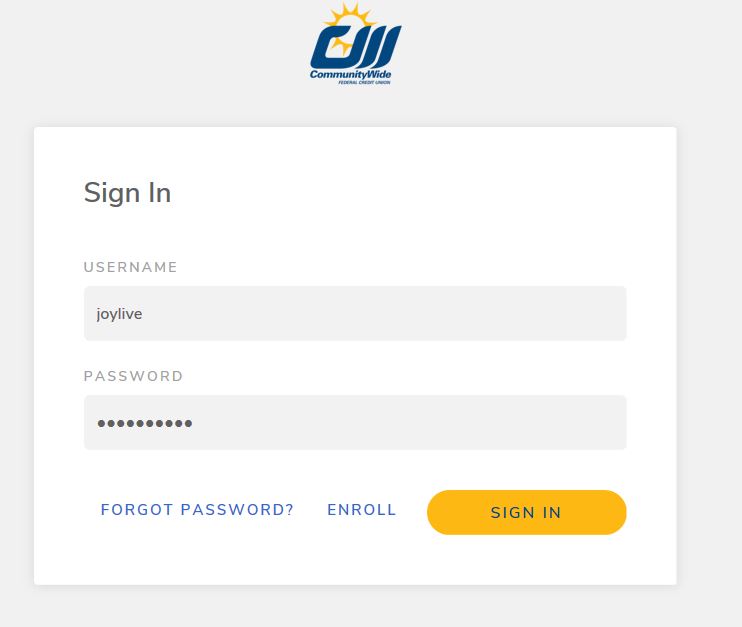 Step 2: Select "PAY LOAN" from Menu, then choose to either transfer from your CW account or from an external account* or pay with a debit card**.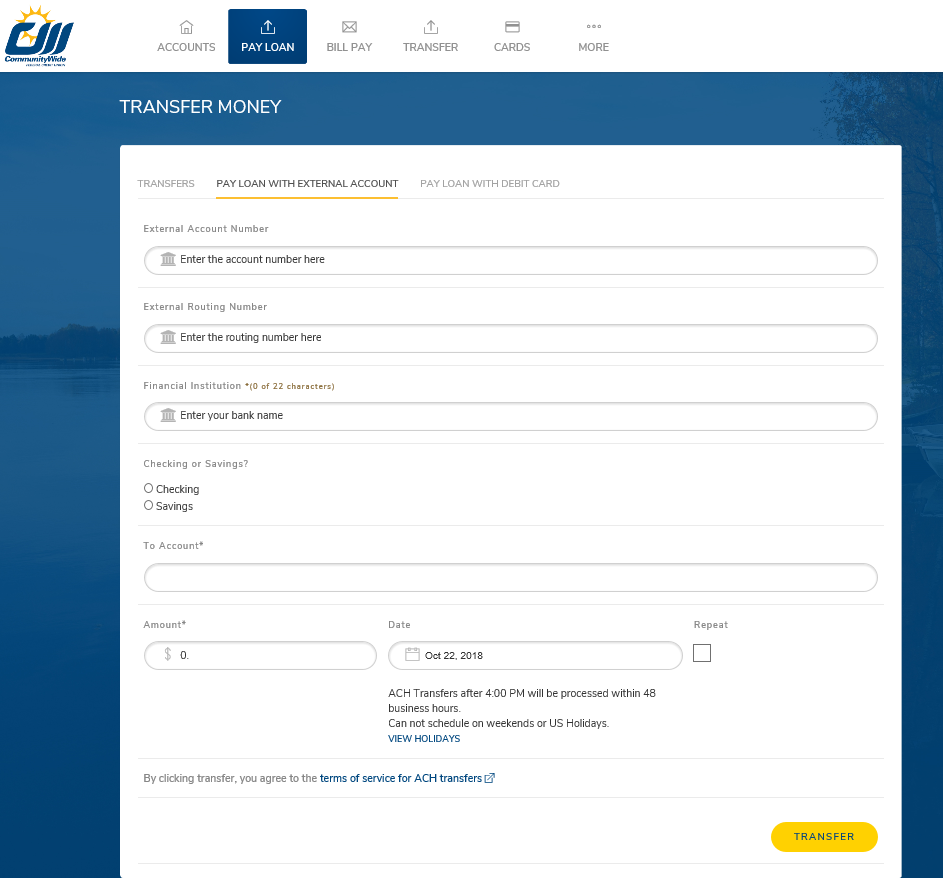 Step 3: If you select the external account option (ACH) then just fill in your account details, schedule your payment and indicate if it will be a repeat payment or one-time only.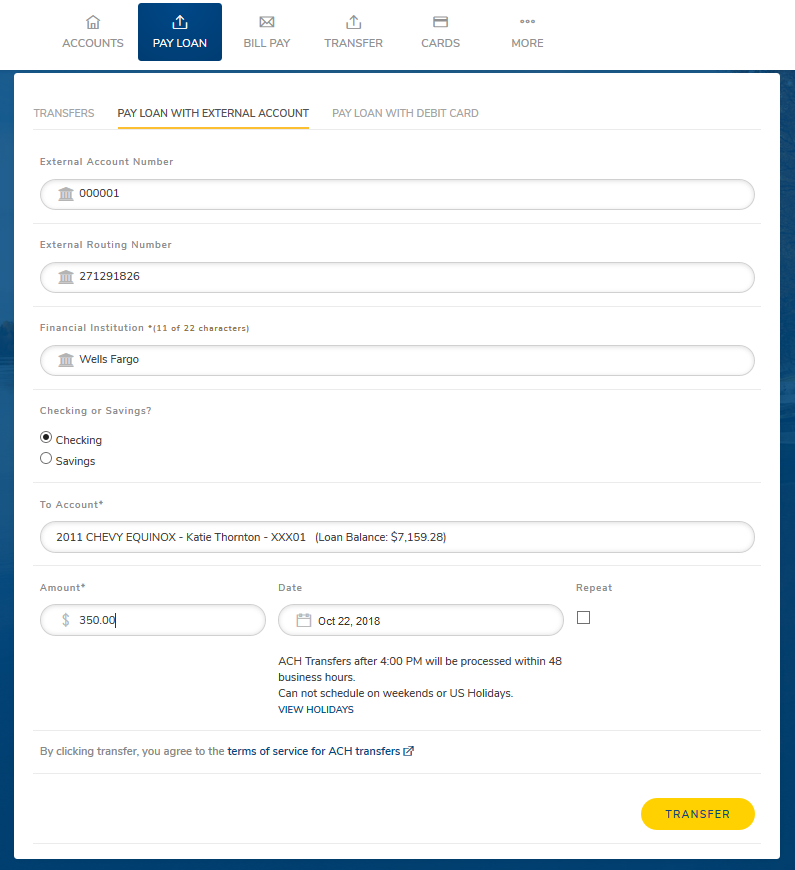 Step 4: Then simply click transfer and you are done! Your payment is scheduled.
Alternatively you may wish to make a payment using your debit card instead for convenience. That's okay, just follow the steps below:
Step 1: Select "PAY LOAN WITH DEBIT CARD" option, then select "MAKE A NEW PAYMENT."

Step 2: Select the loan you want to pay and indicate if you wish to make a one-time or scheduled payment and click "CONTINUE".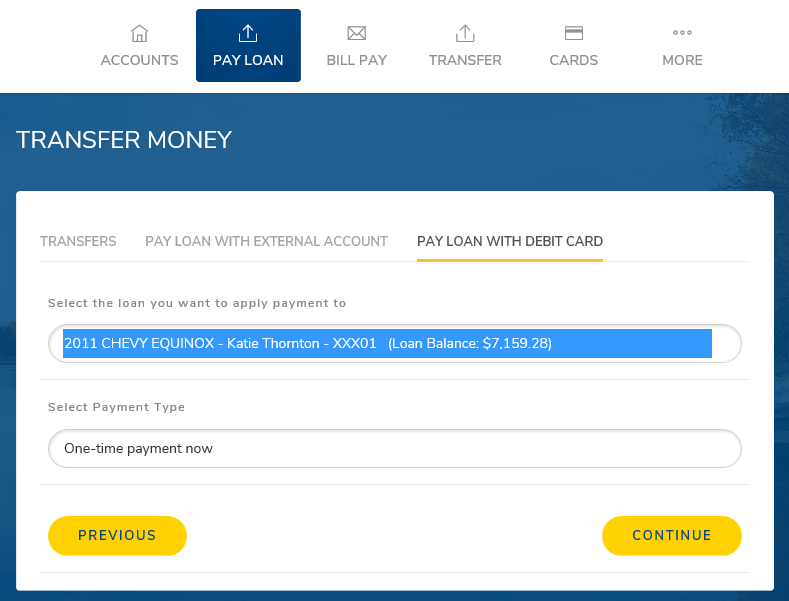 Step 3: Decide if you want to set up automatic payment reminders so you never forget a payment. If not, simply select "No thanks" to continue.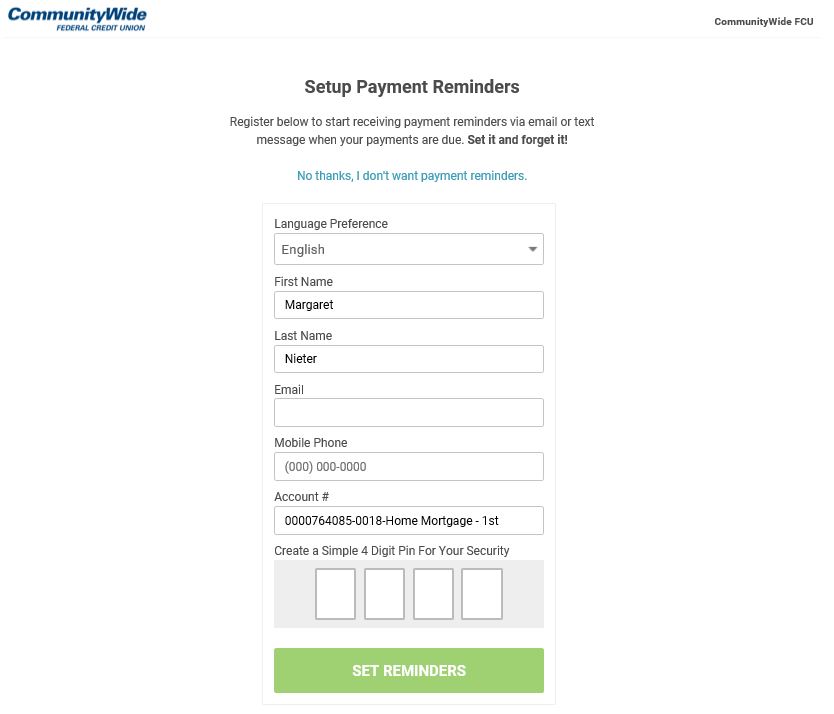 Step 4: Review your payment information and add a card source, save payment details for current and future use.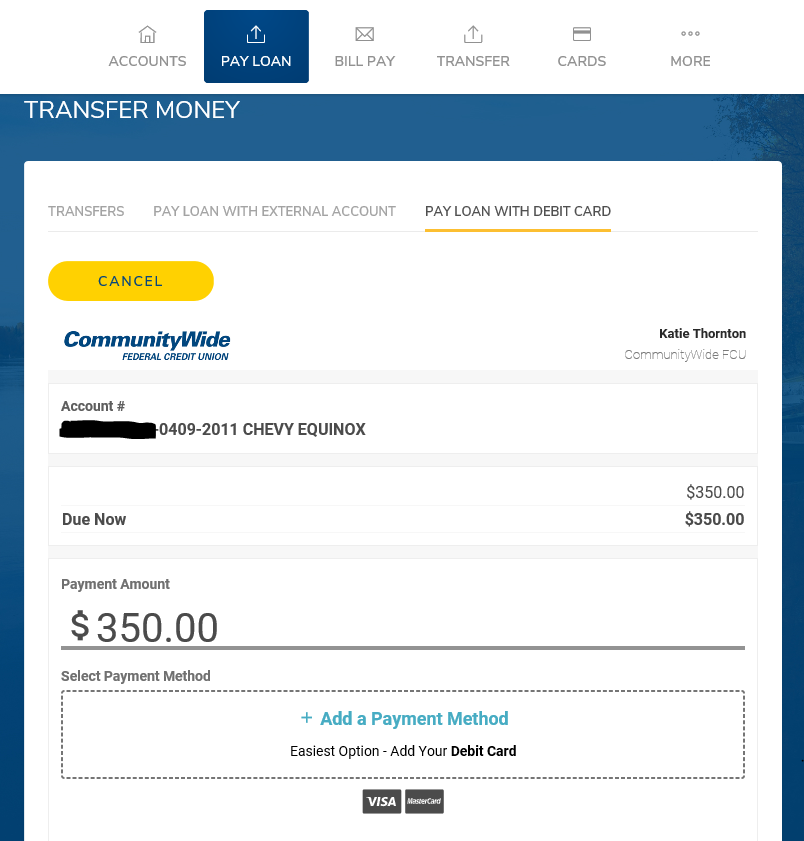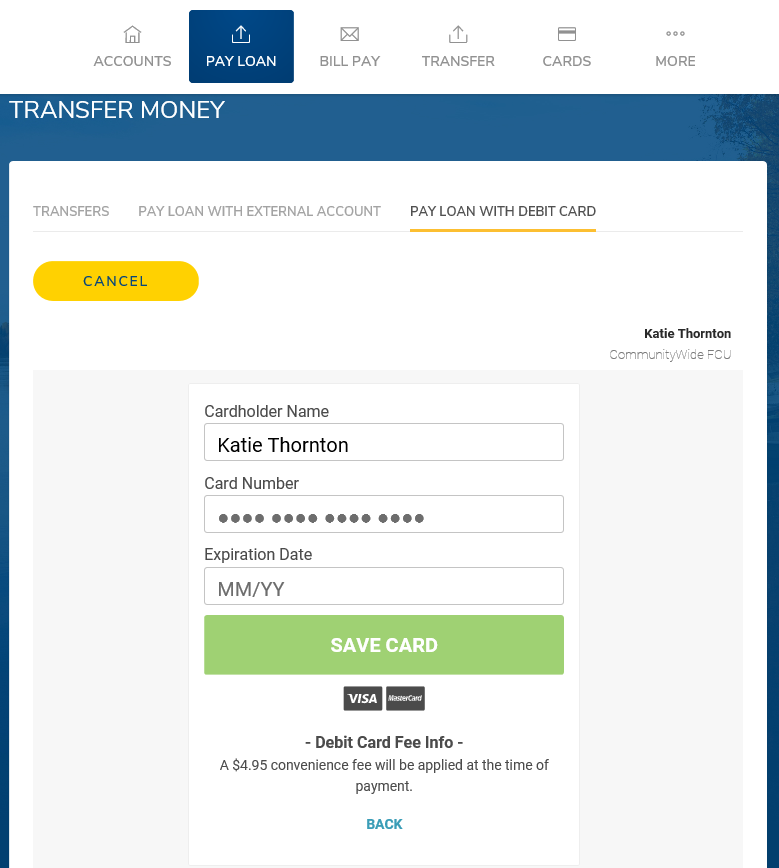 Step 4: Review your payment information, enter the CVV, then select "NEXT - REVIEW PAYMENT."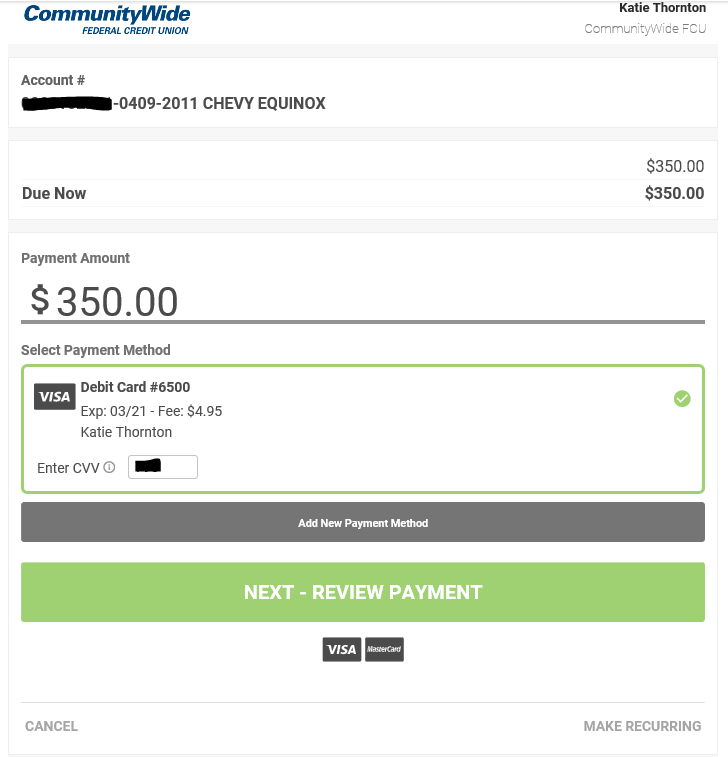 Step 4: Confirm your payment and you are done!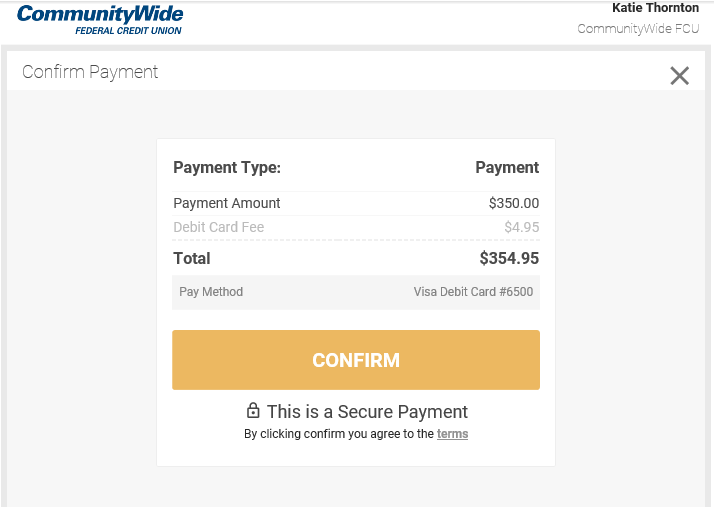 The next time you want to use this card, simply select it again from the option, choose your payment amount and you are all set. It couldn't be any easier.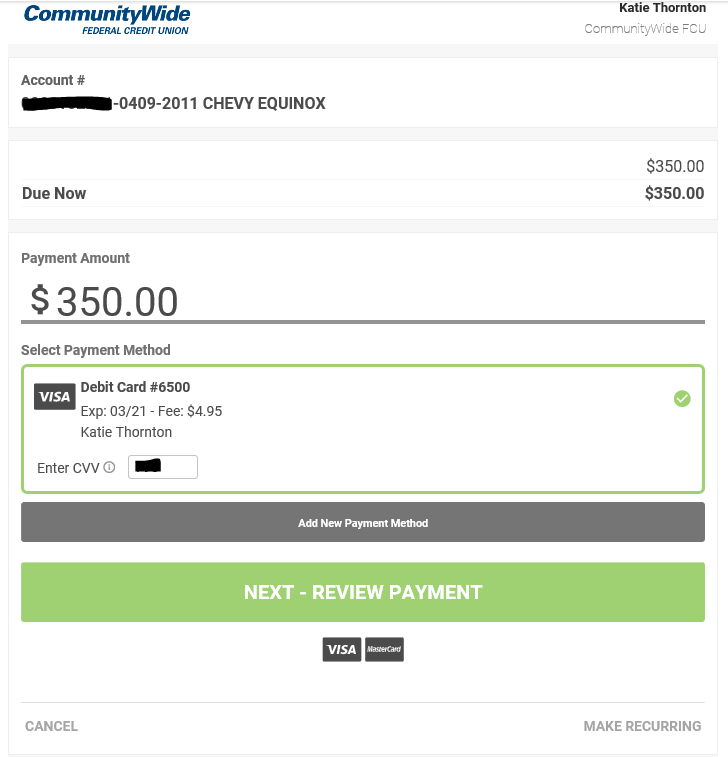 Some other things to remember:
If you have a loan payment with us, you are already a CW member, so there is no need to apply for a loan. Simply click the link below to login or enroll in CWAnyWhere access.
When using a loan payment coupon to access your account information, everything after the dash is the loan number, do not include it as your account number.
If you get an error upon completion, please always confirm with a CW staff member that the payment has not been received before attempting another payment.
Ready to make your payment? Click here to get started!
*External transfers are now free through CWAnyWhere.
**$4.95 convenience fee applies for debit card payment transactions.

Go to main navigation