For your convenience, CW offers Debit and Credit Card services. Use your debit or credit card for purchases anywhere Visa is accepted. A quick and convenient way to get what you need, when you need it.
Featured Benefits of Debit and ATM Cards:
VISA Logo - Debit Cards can be used anywhere the VISA logo is accepted
STAR Network – Our Debit cards contain the STAR network logo as well as several other network types to give you added flexibility on where you can access your money
FREE Network ATMs - Debit cards are accepted at ATMs in our network surcharge free. Check here to locate an ATM within our network near you.
No ATM Fees for Members – CW does not charge for Debit domestic cash transactions. Any fees assessed come from non-network ATM machines, never CW.
EMV cards for security – All of our Debit cards include EMV chips to secure member purchases. This security feature adds extra protection against fraudulent purchases.
Visa Purchase Alerts – With near real-time alerts, you can receive updates on your Visa card activity. Sign up for text or email alerts anytime your debit or credit card is used. You set the parameters and how you would like to be notified. Just one more way to ensure your accounts are safe with no unauthorized transactions slipping by unnoticed. And this unique service is available free for CommunityWide Visa cardholders.
Apply for an ATM/Debit Card through CWAnywhere
NEW!

CW MERCHANT SERVICES
START ACCEPTING PAYMENTS TODAY WITH CW'S MERCHANT PROGRAM
Accepting credit and debit cards at your business is critical for success – so is choosing the right program and the right partner. CommunityWide is excited to offer our members access to robust payment processing solutions at competitively low rates.
Apply for MERCHANT SERVICES TODAY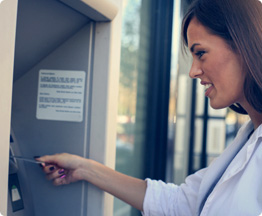 With fixed rates starting at 9.9% and no annual fee, a CW Visa Credit card is a great way to have access to your available credit without being stuck with high interest charges. If your FICO score is 700 or above, you will benefit from this low rate. If your FICO is 699 or lower, your rate would be 13.9% with approved credit. If you pay your balance in full each month you will not be charged any interest. You will have the option to pay by mail, by phone, online, or directly from your CW account.
Featured Benefits of CW VISA Credit Cards:
Low rates and added security – Our card security and low rates help you to more easily manage those bigger purchases worry free.
Access Your Account Online - Now there's a convenient, secure and user-friendly way to access your credit card account information. Get full access to your statements, balances, and transactions.
Visa Points – Our CW Credit Card includes rewards for purchases. Every purchase you make pays you back. Review your Visa points and cash in for rewards.
Manage Cards in Online Banking – Now you can gain access to your credit card balances and make payments right within online/ mobile banking. Just one more way we are making your card management easier for you.
Credit Cards

Loan Rates As Low As...

Name
APR
Visa
9.90%
Go to main navigation